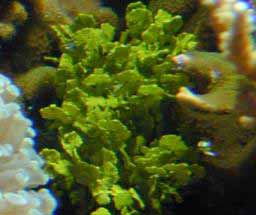 Halimeda sp.
(Click for Larger Image [512x384] 20k)
Picture taken February 2000
Halimeda seems to sprout up out of the rocks years after you get it. This particular rock had been in my system for 2 years before this sprouted up.
Halimeda algae can quickly suck calcium out of the water because it is a calcareous macroalgae. This algae is not recommended for tanks without calcium reactors.