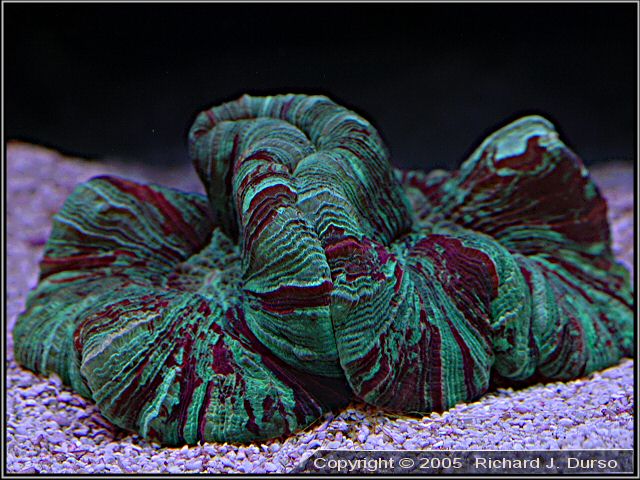 Trachyphyllia radiata - Side View.
Picture taken August 2005, Nikon D70 Digital SLR, Sigma 105mm EX macro lens
Family: Trachyphylliidae
Trachyphyllia (track'-ee-fill'-ee-ah) are solitary corals with flabello-meandroid skeleton having fused walls of their adjacent and deep valleys. T. radiata are usually more rounded and more folded looking then T. geoffroyi.
This species is typically attached to hard substrates in the wild.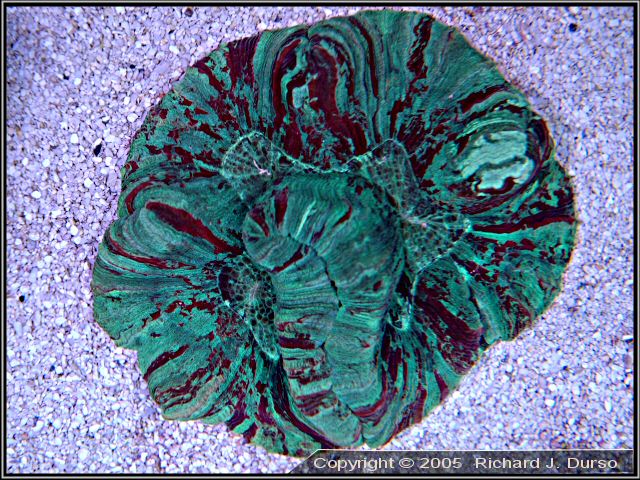 Trachyphyllia radiata - Top View (through 2 feet of water)
Picture taken August 2005, Nikon D70 Digital SLR, Sigma 105mm EX macro lens
Trachyphyllia radiata (formerly Wellsophyllia radiata) is considered an unusual import which is rare in nature.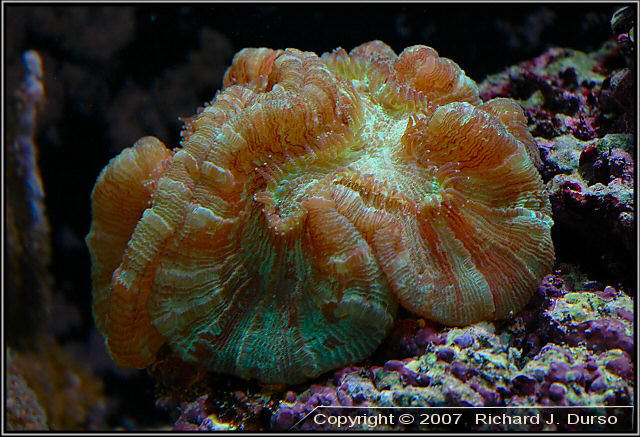 Trachyphyllia radiata -Two years later.
Picture taken July 2007, Nikon D70 Digital SLR, Nikkor 18-70mm DX lens
I haven't taken many pictures of this coral since it lost its red color, which happened to be the reason I bought it.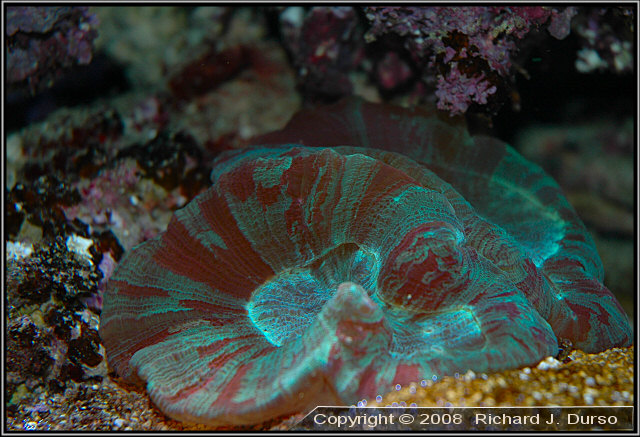 Trachyphyllia radiata - One year later.
Picture taken October 2008, Nikon D70 Digital SLR, Nikkor 18-70mm DX lens
This coral was on deaths bed for many months, wouldn't even expand anymore.
As a last ditch guess, I put this coral in the shade directly under a overhang where it gets no direct sunlight.
After about 3 months it completely healed and regained it red and green color.
However, it has displayed no feeding tentacles and does not capture any food during feedings.