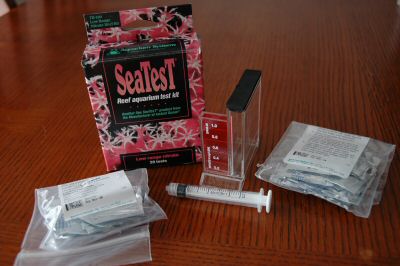 SeaTest Low & Medium Range Nitrate Test Kit
SeaTest brand test kits are made by Aquarium Systems (makers of Instant Ocean brand salt). This is a low and medium range nitrate test kit which measures in mg/l of Nitrate-Nitrogen (NO3-N).
The low range measures 0.02 to 1.0 mg/l whereas the medium range kit goes from 20 to 100 mg/l (uses same color chip).
The low range test takes about 15 minutes to complete. Add testing chamber to lower line add a packet of reagent, shake for 2 minutes. Add a packet of reagent #2 and shake until dissolved. Wait for 10 minutes for color to develop.
The medium range kits uses 2.5ml of tank water diluted with RO/DI water to the top line on the test chamber. Then the steps are the same as the low range kit. The results are multiplied by 10.
Package states it will perform 20 tests.