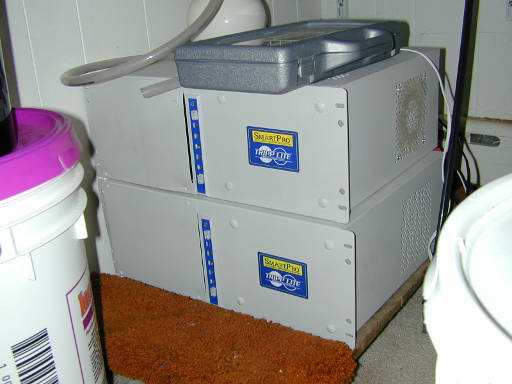 Pictured here are two 2800 KVA Battery Backup Units commonly called Uninterruptable Power Supply or UPS. Each unit has 6 power plugs where each set of two plugs are on dedicated circuits protected by a breaker within the unit.
Each unit will run a few MaxiJet 1000 powerheads for about 6 to 7 hours. Each MaxiJet can move about 260 GPH. I've recently decided to use my Gemini Powerhead instead which moved about 950 GPH with a trade off of slightly lower battery time of 5 to 6 hours. If I'm expecting long term power outage then I only use an air pump (no airstones). Large air bubbles are very effective in creating good current and oxygen to the tank.
The UPS units each weigh about 150 pounds and are not very easy to move when needed. To get around that I leave them on a "Dolly" which is basically a carpet covered square frame of wood with casters (wheels) for easy pushing.
Large UPS units like these are not cheap. Care should be taken when using them near water. I do not plug items like heaters and power heads directly into my UPS units. Instead I plug GFI boxes into my UPS unit and then attach powerheads to that. I do not recommend using a heater on these units unless you know it will be a short outage. Heaters have high current draw and zap battery life.