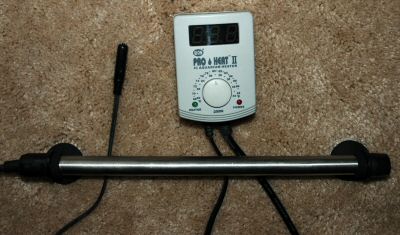 Won PRO II 250w Digital Heater
I've used many heaters over the years and 100% of them have eventually failed with a seal breaking, water getting into the heating element followed by the glass tube exploding.
This time around I did not want a glass tube. It's still possible this may leak and fail but at least I don't have to worry about the exploding glass.
This device has a remote controller with digital LCD readout of the actual water temperature. It uses a micro computer which provides accuracy of ±1°F.
The small black blob to the left of the unit in the picture to the left is the remote temperature sensor. The large silver tube is made of Titanium which has excellent chemical resistance to salt water.
The Digital LCD is mounted in my central electrical cabinet.