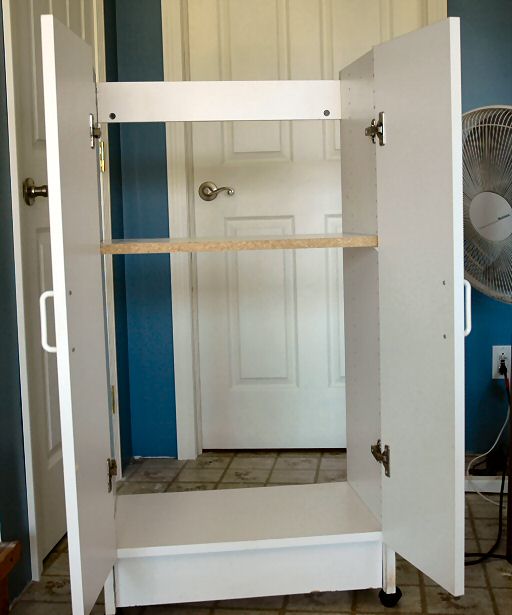 Electrical controller cabinet before modifications
In my last tank setup I was very annoyed with having to trace dusty salt creep crusted electrical wires around the sump trying to figure out which cord unplugged a certain device. This time I planned on having the bulk of the devices wired to a controller cabinet.
This is the base cabinet I decided to use. In the last tank setup in my dining room, I used this as a skimmer cabinet to hide the skimmer from my diner guests.
The only modifications I made to it was installing casters (wheels) on the bottom to make it easy to push around. In addition I glued many of the seams to make it sturdy.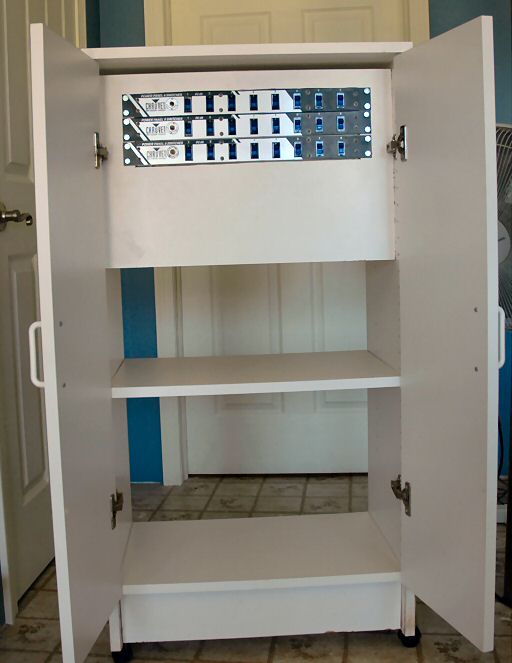 Electrical controller cabinet with three banks of switches installed
I decided to use three banks of switches to control the devices used in the tank as the tank has three dedicated electrical circuits.
Each bank of switches is plugged into its respective electrical circuit which is GFCI protected. In addition, each bank of switches has eight dedicated plugs with eight front switches with each switch back lighted blue to make it easy to see in the dark. Each bank of switches has a built in 15 Amp circuit breaker.
I used a shelf as a vertical surface to mount devices. Then cut out an opening just big enough to hold the three switches. Finally I drilled holes to mount the switches. The switches are held in place with four bolts each.
The switches are actually designed for DJ's (music controllers). Shop around sites dedicated to DJ's and you can find some neat electrical and lighting equipment.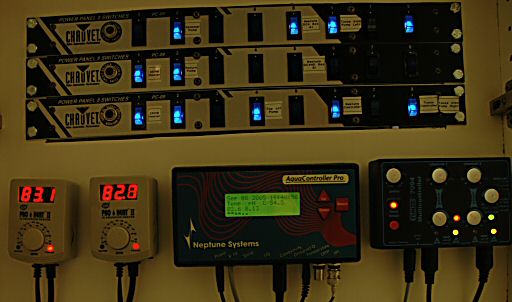 Electrical controller cabinet monitoring tank conditions
This shows some of the tank items now being controlled and monitored from this electrical controller cabinet.
Two Pro Won II digital heaters are installed. In the center is a Neptune Systems AquaController Pro which monitors Tank Temperature, pH and Conductivity (salinity).
The squarish box with six white knobs on the right side is the Tunze Turbelle Stream 7094 Multi-Controller for adjust flow patterns of the Tunze Turbelle Stream 6100.