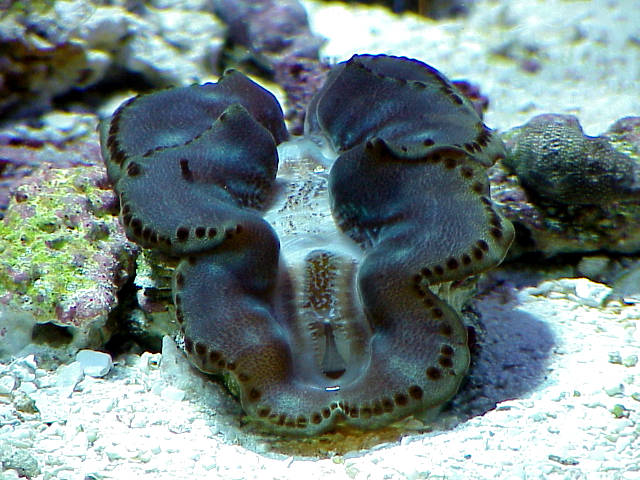 Tridacna maxima
Picture taken June 1999, Sony Mavica FD91 digital camera, no flash.
This was purchased on June 4th, 1999.
I originally tried to place this clam higher in the rock work but it kept jumping down to the sand level. I decided to leave this one on the sand for now.
T. maxima clams can reach 12 to 16 inches in the wild. The tend to be a little smaller in reef tanks. They should be considered a "high light" species and tend have blue and green mantles. They have pronounced scales on the shells and tend to be a longer clam than T. crocea.
Tridacna maxima
picture taken September 1999, Sony Mavica FD91 digital camera, no flash.
This shows the clam three months later. It's blue color has changed to a more turquoise and the center mantel has developed a pattern. The clam has moved itself to be parallel to the front of the tank.
There has been growth during the past three months which can been seen when the mantel is retracted. However its not significant growth like my T. derasa shows.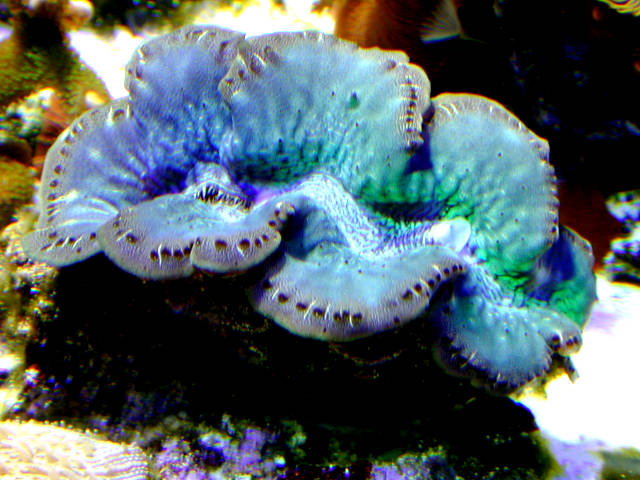 Tridacna maxima
Picture taken July 2000, Nikon Coolpix 950 digital camera, no flash.
Pictured here is the clam 10 months after the last picture. It has been doing well and has had several growth spurts over the part year. It has probably doubled its mass since I got it.