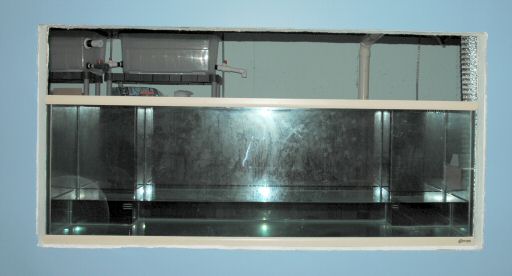 Initial Tank Fill - 40 Gallons of Water, March 26th, 2005
Room construction is just about finished. Just minor work still needs to be done such as molding and a flip up door above the reef tank.
This image shows the tank being filled with water -- the image shows 40 gallons of RO/DI water.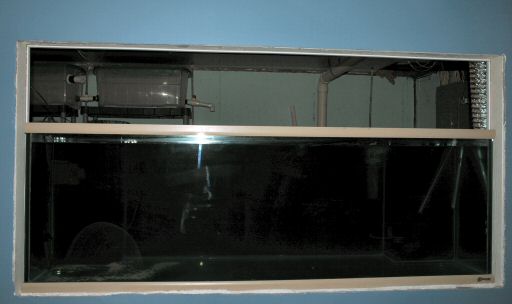 Initial Tank Fill - Full to the Rim, April 5th, 2005
This shows the tank full of water. Salt has been added and tank is up to proper temperature. You can likely make out several power heads and heaters.
The sump is not yet plumbed into the system, however the system is ready to start rock curing.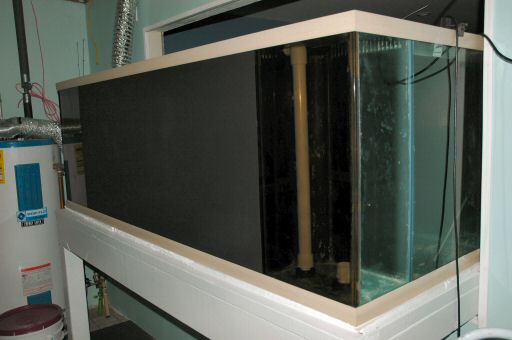 Tank Glass Painted. Return Plumbing Completed, April 5th, 2005
The back central part of the display tank has been painted black. I did not paint the overflow chambers as it is important to be able to inspect the chamber regularly. I needed to paint the back glass to prevent the viewer on the other side from seeing items in the back room. The back glass was just smoked black glass not a solid black.
Since I was going to paint the tank black I figured I could make it useful. I decided to use Rust-Oleum brand Chalk Board writable-erasable latex paint. This effectively made the back of the tank a functional black chalk board that I can keep notes or instructions. The glass took about 8 coats of paint applied with a foam roller.
The bulkheads have been installed and the return plumbing to the display has been fabricated. The drain line bulkhead has a male adapter installed for a Durso Standpipe™ that has not yet been installed.