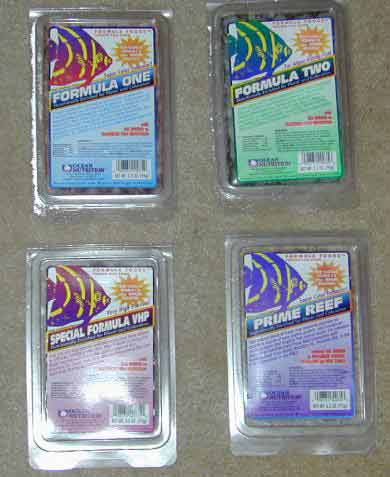 Ocean Nutrition Frozen Foods
Before I started to make my own frozen foods, these were the staple foods I used. I rotated between each of the foods here. There are 35 little cubes in each pack. The cubes come in easy to use feeding size that just pops out with a slight push from the back of the package. The first three of them are "Gel Binder" based. This means they will not fall apart in the water. You'll have to cut them up into small bite sized chunks yourself when its frozen.
Formula One - has some Caulerpa Algae in it but it is mainly a meaty food with Shrimp, Clam, Krill, Squid, Fish Roe etc. It does also contain Green Algae and Red Algae.
Formula Two - is excellent for tangs. It has a mix of Shrimp, Krill, Ulva Green Algae, Kelp, Mussel, Spinach, Red Algae (Hypnea), Brown Algae, Squid, Fish Roe, Peas and Spirulina.
Special Formula VHP - VHP stands for Very High Protein. It contains Shrimp, Krill, Clam, Kelp, Fish Meal, Squid, Fish Oil, Green Algae, Spinach, Spirulina, Wheat Germ Meal, Fish Roe and Crab Meat.
Prime Reef - contains Krill, Shrimp, Squid, Plankton (Euphausia pacifica), Mussel, Clam, Lobster, Krill, Fish Roe, Scallop and Green Algae.