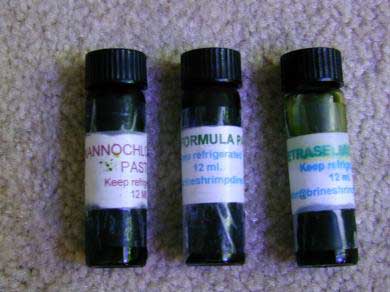 Inland Sea Farm's Frozen Phytoplankton Pastes
These are 12ml bottles of Cryopreserved Phytoplankton concentrated pastes from Inland Sea Farms. Brine Shrimp Direct is a distributor of this product.
Cryopreserved is a fancy way of saying that the product uses food grade antifreeze (typically Propylene glycol) which helps keep this paste in liquid from down to -20°C. Ignore the manufactures instructions of refrigeration and store these in the freezer. The nutritional value of the paste rapidly decreases as it warms up. Refrigeration is not sufficient to preserve the pastes.
Tetraselmis
| Species | Cell Count Per ml of Paste |
| --- | --- |
| Tetraselmis | 1.1 Billion |
| Nannochloropis | 37 Billion |
| Isochrysis | 4.9 Billion |
| Pavlova | 8 Billion |
| Tahitian Blend | 13.7 Billion |
A good goal for feeding these pastes is to reach 10,000 cells per ml of tank water.
The cell count depends on which species of phytoplankton you use. These are estimated cell counts per ml of paste.
According to Rob Tooney, most corals do not eat phytoplankton except some Chili corals, some gorgonians, and a few unusual SPS corals like Agaricia. The pastes help to feed the sand bed, micro fauna and filter feeders which in turn will likely produce lots of larvae which does feed your corals.
The recommended starting dosage is to reach 10,000.00 cells per ml of tank water based on real tank water volume. Slowly ramp up your feedings over the course of weeks and months. Be careful of overfeeding. These pastes are not alive like DT's brand phytoplankton. Dead phytoplankton that does not get consumed will be broken down by bacteria and will increase the dissolved organic content of your water which may lead to algae blooms. If your unsure if your tank can handle the increased feedings then start with half of the suggested values.
Water Volume
(in Gallons)
Tetraselmis
(in ml)
Nannochloropis
(in ml)
Isochrysis
(in ml)
Pavlova
(in ml)
Tahitian Blend
(in ml)
10
0.34
0.01
0.07
0.04
0.02
20
0.68
0.02
0.15
0.09
0.05
40
1.37
0.04
0.30
0.18
0.11
50
1.72
0.05
0.39
0.24
0.14
70
2.40
0.07
0.54
0.33
0.19
90
3.00
0.09
0.69
0.42
0.25
110
3.78
0.11
0.84
0.52
0.30
120
4.12
0.12
0.92
0.57
0.33
150
5.16
0.15
1.15
0.70
0.41
180
6.19
0.18
1.39
0.85
0.50
200
6.88
0.20
1.54
0.95
0.55
220
7.57
0.22
1.69
1.04
0.60
240
8.26
0.24
1.85
1.13
0.66
300
10.32
0.30
2.31
1.41
0.83
350
12.04
0.35
2.70
1.65
0.97
400
13.76
0.40
3.09
1.89
1.10