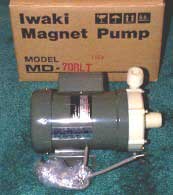 Iwaki MD70RLT Pressure Pump
This is the most powerful pressure pump I have used. This time I did not use it for the return pump as I did in my last tank setup. This time I used the pump to power my Reef Science Dual Beckett Injector Skimmer. However, since this skimmer is no longer being used, this pump has been taking off-line.
There are American made and Japanese made versions of these pumps. A pump with "MD" shows it is Japanese made, a "WMD" shows it is American made. Unfortunately the American made pumps are of a much poorer quality than the Japanese pumps. The Japanese pumps are smaller, quieter, and run cooler. I wish it wasn't so, I don't like to bash products made here in USA.
Iwaki pumps also come in circulation versions and pressure versions. "LT" are for circulation, "RLT" are for pressure applications.
Input: 1 inch MPT
Output: 1 inch MPT
Power: 2.8amps, 60hz, 110 volts.
Moves 1,500 Gallons per Hour at 4 foot head presure.