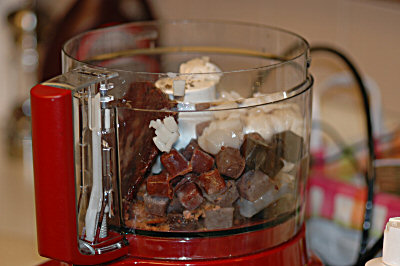 Home Made Frozen Mush - July 2006
Every few months I need to break out the food processor and make a batch of frozen food. Sometimes I use all fresh seafood, sometimes it is mainly typical LFS frozen foods mixed together. Sometimes its a combination of everything.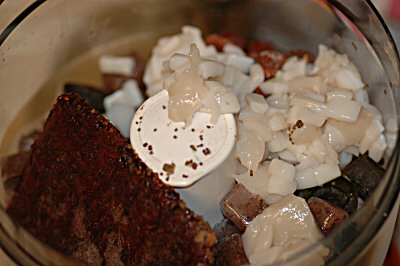 Home Made Frozen Mush - July 2006
This time my neighbor and I created the largest list of ingredients we've ever tried. We had such a volume of ingredients that we had to make it in two batches. The two batches were then combined and bagged and placed in the freezer.
The viscosity of the mixture was adjusted with RO/DI water, Garlic Guard (liquid garlic extract) and Kent Micro-Vert.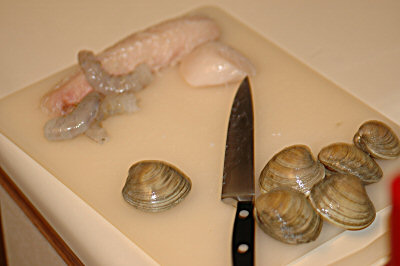 Some fresh ingredients: fish, shrimp, scallop, and clams
The following ingredients were used in this mixture:
Fresh Ingredients:
14 Cherry Clams (meat & juice)
1 full fish filet (whitefish)
4 Squid (finely chopped)
8 Cocktail Shrimps
8 Large Scallops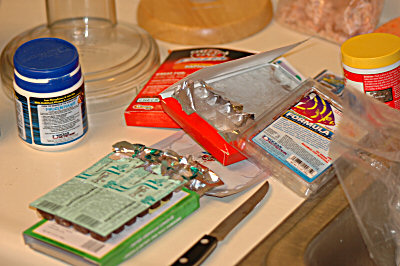 Some of the other ingredients
Frozen Ingredients:
1 ¼ Frozen Bars Cyclopeze
4.0oz Frozen Blood Worms
3.5oz Frozen Brine Shrimp
3.5oz Frozen Daphina
3.5oz Frozen Emerald Entree
3.5oz Frozen Formula One
3.5oz Mega Marine Algae
3.5oz Frozen Mysis Shrimp
Dry Ingredients:
30 grams SeaVeggies Red Flake
1.5oz Formula One Marine Pellet
1.0oz Omega One Marine Flake with Garlic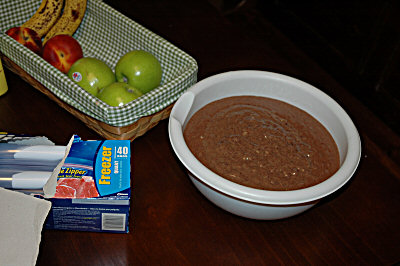 Mush ready to be bagged - July 2006
Liquid Ingredients:
3.0oz Bottle of Kent Micro-Vert liquid food
3.0oz SeaChem Garlic Guard
RO/DI Water as needed to thin mixture.
After the two batches of the mush were completed, they were joined in a large bowl and mixed. Sample was added to display tank to watch reaction of the fish and coral. They went nuts for it, corals showed excellent polyp extension within minutes of it being added.
The mixture was placed into freezer zipper bags with 10 to 12 heaping tablespoons per bag.
15 bags were completed, then placed into the freezer.
It is not uncommon for a mixture like this to have an unpleasant smell. However, the addition of garlic extracts really give it a decent smell.
Caution to the use of squid in frozen mixtures. The squid is rich in oils which makes a skimmer go nuts. You must watch your skimmer closely for several hours after feeding. You may have to turn off the skimmer to prevent it from overflowing.
Pictures of previous mixtures: Home Made Frozen Slurry.