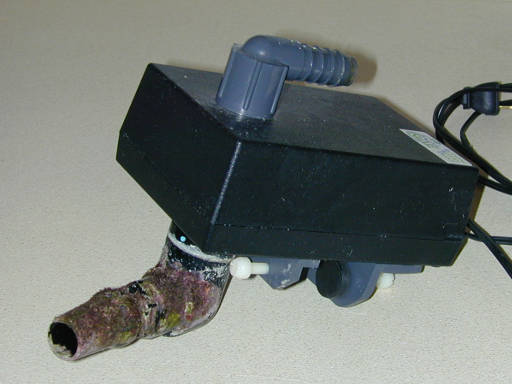 This actually is not a powerhead because by itself it does not move any water. This is a ¾ inch version of the SeaSwirl made by Aquarium Current's, Inc. This device also comes in ½ inch and 1 inch (these measurements are the diameter of the exhaust tube which determines how much water flow the device can handle.
The device itself is nothing more than an oscillator of some type that moves the exhaust back and forth 90 degrees. You can get 180 degree coverage by adding a Y connector to it. The water is supplied by some other source such as a large powerhead or an external pump. I tried powering this model with a RIO 2500 but that was not enough current to be effective with this device.
I used two of these as the primary return method. These two are attached to my Iwaki MD70RLT return pump.
This picture was taken after the SeaSwirl had been in my tank for several months. You can see that it has gotten coralline encrusted.